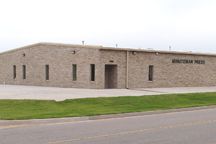 Our shop is located at 300 N. Ann Arbor, between Meridian Ave. and MacArthur Blvd (1 block south of railroad tracks). We are on the east side of Ann Arbor Ave. If you want to place an order or get help with a project, enter our online Customer Service Center or just give us a call at 942-5595. We even have helpful information in our Resources & Support area.
Thanks for stopping in and enjoy your visit!
8:00am till 4:30pm Monday - Friday
300 N. Ann Arbor Ave.
Oklahoma City, OK 73127
On each page we have an easy-to-use pulldown menu, search engine, and a link to our contact form.  If you have trouble locating a particular item,  please consult the site map.  If there's anything we can do to improve our site, please let us know.  Our goal is to make this site a very easy to use, valuable tool for all of our customers.