Traditional Offset Printing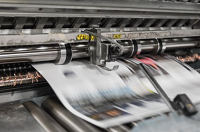 The printing department is where "the rubber meets the road," or in this case, where the paper meets the plate. Part craftsman, part technician, part magician, our press operators orchestrate sophisticated machinery to make sure that your last impression looks as good as the first.
We utilize proven technology and equipment to ensure that our printed products are of the highest quality. Our professional press-operators are masters at maintaining ink consistency and coverage, maintaining accuracy, and meeting tight deadlines.
- Maintains equipment to ensure optimum efficiency and quality
- Extensive knowledge of pre-press technology -- film, metal/poly plates; ink mixing
- Extensive knowledge of chemical usage and disposal
- Quality Assurance