Finishing & Bindery Services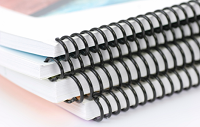 - The finishing services department takes your documents from the press and carries them to their final form. Whether cutting, folding or binding, it's a job with no margin for error--if it's done wrong, everyone notices. But our skilled staff makes it look easy while doing it quickly.
- Our bindery services department handles everything from basic cutting, folding and laminating to more elaborate mail preparation and booklet-making services. Our full range of bindery services allows every job we produce to go out the door ready for distribution.
- Comprehensive understanding of various finishing machines -- folding, cutting, binding, laminating, booklet making, etc.
- Collects samples for file management system