Design & Pre-press Services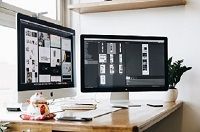 Our designers have extensive knowledge of all major computer page layout and graphic applications including InDesign, Illustrator, and Photoshop. They create nearly every job we produce from concept to final proof and are experts at layout and composition.
Our pre-press department is the bridge between the digital world and the printed world. It's their job to take your creation and make sure it is ready to go to press. Using cutting-edge technology and precision process controls, they ensure that what you've seen on screen is what you'll see on paper.